Indentations on the top of the molars typically hold onto more germs and buildup and so are more at risk for ending up with decay. Dental sealants, a routine part of preventive dentistry, can protect the teeth from cavities caused by decay. These fine preventive sealants are made of a clear or white material that is applied to the occlusive surfaces of the back teeth. Once set, sealants can defend these teeth and produce a more even surface, which is easier to clean. Dental sealants provided at DentalWorks - Hyperlingo not only help prevent tooth decay; they can also lessen your family's needs for fillings or other corrective procedures later on. Speak with Dr. Dentist Two at your biannual dental visits at our City, ST facility to find out if you or your child could from dental sealants.
Reviews
"Best dentist I've ever been too. Been going here for 42 years."
- A.M. /
Google /
Mar 25, 2020
"Dr. R has been my dentist since I was a little kid. He has done a lot for me and is a great doctor. Highly recommended!"
- A.M. /
Google /
Mar 25, 2020
"Dr. Robert Radin is amazing ! Even after 30 years in his office still manages to amaze me with professional , attentive approach and knowledge ! Every member of his office treats you like family. Thank you !!!"
- L. /
Google /
Mar 25, 2020
"Great customer service"
- A.C. /
Google /
Feb 25, 2020
"Oral surgeon was amazing got both my wisdom teeth out within an hour I'd say, would recommend 10/10"
- M.C. /
Google /
Feb 25, 2020
Previous
Next
Who Is a Candidate for Sealants?
Young people between the ages of 6 – 12 are often the most susceptible to cavities on the occlusive surfaces of their back teeth, making them recommended candidates to receive dental sealants. Further, patients aged 12 and up might also be eligible for sealants, for example, those who have a hard time being diligent about optimal oral hygiene regimens or who are predisposed to cavities. At DentalWorks - Hyperlingo, receiving dental sealants is a convenient, routine process that generally needs no anesthesia. Schedule a consultation so a member of our dental staff can speak with you or your child to find out if you may benefit from this simple and efficient option.
What Is the Sealant Process?
First, will need to look at the teeth to learn if dental sealants are the right service for you or your family. To prepare your mouth for sealants, a professional on our staff will clean the teeth to eliminate any buildup, food debris, and germs from the tops of the teeth. The dried, and a small film of sealant product is then placed evenly into the grooves with a small brush. A special curing light will be positioned on top of the tooth; this will strengthen the sealant covering within roughly 10 – 20 seconds. As soon as every sealant is in position, our professionals will evaluate your chewing surfaces for alignment and supply you with instructions about how to efficiently take care of your sealants.
Caring for Dental Sealants
your sealant session, you or your child should be able to carry on with your normal activities. Throughout the next few days, it is critical to stay away from chewing on sticky or hard foods to help keep the sealants in good shape as they set into your teeth. also advises individuals to develop a decent oral hygiene regimen, such as flossing and brushing no less than two times every day. If tended to correctly, dental sealants can stay in place for many years. Our staff at DentalWorks - Hyperlingo will evaluate your mouth during routine dental assessments and tell you if the sealants could be reapplied.
Will Insurance Cover Dental Sealants?
Since dental sealants are generally applied as a preventive procedure, several dental insurance plans pay for them for people up to a specific age. Coverage can vary between adolescents and people who are 20 or older, so our billing staff will go over your plan and inform you of your extra expenses. DentalWorks - Hyperlingo takes several payment options to make your oral attention more convenient and cost-effective for you and your loved ones.
FAQ ABOUT DENTAL SEALANTS
What are dental sealants?
Dental sealants are thin coatings applied to the chewing surfaces of the back teeth (molars) that help to prevent cavities.
Is a dental sealant a better option than a filling?
Sealants are a quick and painless way to prevent cavities. A tooth without a cavity is healthier and stronger than a tooth that has a filling or an untreated cavity. Sealants are less expensive and easier to apply than a filling.
When should children get dental sealants?
Sealants prevent the most cavities when applied soon after permanent molars come in. This is usually around age 6 for the first molars and age 12 for the second molars.
Do dental sealants hurt?
Getting a sealant is easy and does not hurt. The tooth is cleaned, rinsed, and dried. Next, the dental sealant is painted on the tooth. The dentist may shine a light on the tooth to help harden the sealant to form a protective shield.
How long do dental sealants last?
Dental sealants have shown to still work approximately nine years after placement. However, sometimes they do fall off. If a tooth loses a sealant, the protective shield is gone and the tooth can get a cavity. That is why it is important to maintain regular dental appointments so they can be checked. The good news is that missing sealants are easy to replace.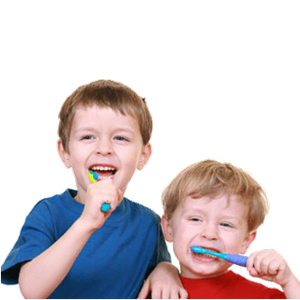 Protect Teeth From Tooth Decay
Protect against decay and yourself and your children attain radiant, hygienic smiles for several years. Dental sealants are a reliable, fast, low-maintenance service at DentalWorks - Hyperlingo that could also decrease the chances for future dental procedures and allow for better dental wellness. Find out if dental sealants are right for you or your family by setting up a consultation with at our City, ST practice today!
Related Procedures
Related Posts